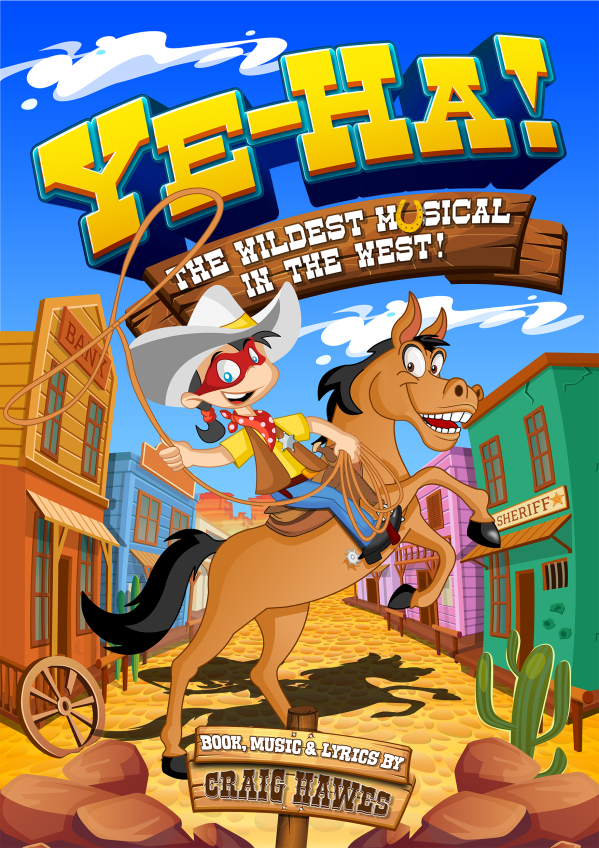 Why choose this Musical?
42 speaking roles
Flexible Cast size to suit YOUR group numbers, from 26 actors upwards. See "Casting" tab below.
Unlimited chorus parts
Easy to stage & Easy to costume
NEW

Sing It! Mk. 4 version, now with...
"Volume Control" feature
"Minimise Window" feature
"Lyrics Off" feature
"Vocals Off" feature
"Line by Line" practising feature
"Phrase by Phrase" practising feature
A BRAND NEW product; a CD-ROM or download of all the songs called "Sing it!" is available. This CD-ROM or download can teach the songs to the children without any teacher input. Children can use it at school or at home - think of the time it will save you! Most schools use it in class on an interactive white board or in the school hall on the overhead projector to allow full cast practice. Children LOVE learning this way and the product is foolproof.
Read the "Sing it!" reviews 'The "Sing it!" products were fantastic.' The Downs School, Bristol. 'Absolutely amazing material.' Mary O'Neill-Delano, Canada. ' "Sing it!" is fantastic for us less musically inclined teachers.' The Coppice Primary, Worcestershire. 'I really appreciate the "Sing it!" component as we often use this in rehearsals.' Newborough East Primary, Victoria, Australia. 'Can I also say that your "Sing it!" CD was brilliant.' Key Stage 2 teacher, Singapore.
No fuss props
Full Performance Piano/Vocal Score available (Grade 5 / 6 Standard)
Encompasses Overture, ALL Play Ons and Play Offs, Songs, Link Music, Cues and Chord Symbols. Click "Performance Score" in the "Script & Songs" tab below.
Easy Play Rehearsal Piano/Vocal Score available (Grade 2 / 3 Standard)
Click "Easy Play Score" in the "Script & Songs" tab below.
CD of Backing Tracks plus essential sound effects
No pianist required!
CD of Vocal Tracks
Both these CDs include Overture, ALL Songs, Special Effects, Play Ons and Play Offs in the order you need them enabling production and direction to take place without specialist musical expertise. However for those of you who prefer a live pianoforte accompaniment, we now have available a superb BRAND NEW Performance Score which encompasses Overture, ALL Play Ons and Play Offs, Songs, Link Music, Cues and Chord Symbols. (Grade 5 / 6 standard). We also have available a BRAND NEW Rehearsal Score (Grade 2 / 3 standard).
Age range: Key Stage 2 Production (7-11 years)
Duration: 45 to 50 minutes
NEW! Instant Scenery with our digital backdrops
A different backdrop for EVERY scene change
Supplied in both a PowerPoint presentation and as individual JPG files.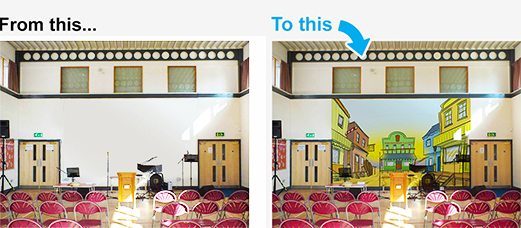 No more Scenery Painting!
"Ye-Ha!" squeezes all the fun and adventure of the old west into a wonderfully wild musical comedy. Something stinks in Splodge City - and it ain't the drains! Mad Dog McNut and his gang are running wild and Wilbur Hubbard, cowardly cook at the Fordoor Saloon lands the job no-one wants - Sheriff of Splodge. Luckily for Wilbur, Billie-Jo Brisket and her faithful steed Lightning roll into town to lend a hand, and suddenly the race is on to save the town. It's a rootin- tootin tale of crazy cowboys, barmy baddies, masked heroes and hidden gold!
"Ye-Ha!" mixes comical characters, a side-splitting script and sparkling songs in a musical that will make your cast shine and your audience go wild in a western way! With parts for between 30 and 50 children plus unlimited chorus parts, this show will suit any size school or group.
A CD featuring dazzling, fully orchestrated backing tracks is available.
A CD of vocal tracks is also available which can be used for rehearsals and performances.
"Ye-Ha!" is full of action, dance and witty one-liners right from the start with the opening song "Wild Wild West!" The townsfolk enter and the drama begins as Chip discusses the no-good gang that runs riot in Splodge City. Wilbur is elected as the new sheriff whose job it is to solve the crisis, but unfortunately, as soon as a sheriff is elected, his coffin measurements are taken in the Fordoor Saloon a few moments afterwards by Philius and Festus!
The mayor, Tex Truman enters and we discover his wish to marry Ma Hubbard, Wilbur's mother and owner of the Fordoor Saloon. Wilbur doubts his ability to be the new sheriff, but the saloon girls nonetheless convince him otherwise and this is followed by Wilbur's solo "Where Is The Hero In Me?"
Just like a scene out of the old-time musical "Oklahoma!" Spooner and Rooster enter with a plan to sell their 'remedies' to make a fortune in 'Spoldge City'. Unfortunately, Spooners tendency to mix up his words means that the audience is wary of his 'remedies' immediately! The heroine, Billie-Jo enters to music along with her horse Lightning and talks with the children on stage, asking for a blacksmith; this is an ideal opportunity for the chorus members to become involved. Wilbur and Billie-Jo meet, she is then introduced to the townsfolk and they all join together to sing "Little Ol' Town".
After much anticipation the McNut gang enter to music and introduce themselves. Drama soon follows as Wilbur attempts to settle this problem over a glass of milk (the naivety is quite sweet) and unsurprisingly is mocked. Yet the tables turn as a black-out follows and an unknown stranger succeeds in saving Wilbur with a surprising tactic..."Wild West Hero" follows. Following this lively number, two young boys reveal that there is gold hidden in Splodge City, - the mayor has known all along, - and in a sudden twist, the mayor reveals he is really the villain of the play, determined to get his hands on the gold. In a humorous scene between the two-stroke Indians and Tex, the mayor attempts to discover where the map leading him to the treasure is hidden.
Billie Jo then enters to music and sings "Be A Boy". Upon hearing the McNut gang, she hides and overhears their plan to lock Wilbur in jail. Following this, the Indians enter to music and Tex pays them for their help, but without him knowing, the money is passed down the line to Billie Jo (hiding her true identity with a lone-ranger mask.) Billie-Jo then frees Wilbur from jail anonymously, and shares the mayors dirty secret. Spooner and Rooster enter to music, attempting to sell the topical tonic for life which is marketed brilliantly in "Spooner's Spectacular". Luckily, as the McNut gang enters, Billie-Jo reveals that the topical tonic is really a laxative and Wilbur successfully tricks the gang into taking it which really gets things moving! Everyone celebrates both Wilbur's and Billie Jo's achievements and we discover that the map to the gold is tattooed somewhere unexpected on Wilbur... In a happy ending, the Indians reveal that the gold is really a bubbling oil well hidden in the backyard of the Fordoor Saloon and everyone celebrates in a typical Western song "The Stetson Stomp".
Suggested Cast List For 44 Actors
N.B. In the following list, the number shows how many spoken lines each role has. An asterisk (*) before the character's name indicates that this character ALSO has solo or featured sung lines.
| Character Name | Number of Lines |
| --- | --- |
| Mayor Tex Truman | 100 |
| * Wilbur Hubbard | 86 |
| * Billie-Jo Brisket | 73 |
| Ma Annie Hubbard | 62 |
| Chip Checker | 40 |
| * Dr Cornelius Spooner | 36 |
| Howling Mad Dog McNut | 36 |
| Dwayne Dimples | 35 |
| Chief Walking Weasel | 25 |
| Bronco Bill | 22 |
| Old Amos | 18 |
| Philius Snuffitt | 18 |
| Old Seth | 17 |
| Festus Rott | 14 |
| Rooster | 12 |
| Buzz | 8 |
| Squatting Poodle | 8 |
| Buck | 7 |
| Jumping Jaguar | 7 |
| Levi Vandergelder | 7 |
| Towering Wild Bear | 7 |
| Butch | 6 |
| Dolly Vandergelder | 6 |
| Leaping Leopard | 6 |
| Miss Bracegirdle | 6 |
| Smith Ironside | 6 |
| Brad | 4 |
| Bret | 4 |
| Bud | 4 |
| Chad Checker | 4 |
| Claude the Barber | 4 |
| Clifford the Barber | 4 |
| Clint the Barber | 4 |
| Clyde the Barber | 4 |
| Bonnie | 3 |
| Casey | 3 |
| Dixie | 3 |
| Ellie | 3 |
| Frankie | 3 |
| Sonny Ironside | 3 |
| Verity Vandergelder | 3 |
| Virginia Vandergelder | 3 |
Non-speaking roles: Lightnin' Horse (2 actors, who also play additional townsfolk in Scene 1).
Suggested Cast List For 26 Actors
N.B. In the following list, the number shows how many spoken lines each role has. An asterisk (*) before the character's name indicates that this character ALSO has solo or featured sung lines.
Character Name
Number of Lines
Mayor Tex Truman
100
* Wilbur Hubbard
86
* Billie-Jo Brisket
73
Ma Annie Hubbard
62
Chip Checker
40
* Dr. Cornelius Spooner
36
Howling Mad Dog McNut
36
Dwayne Dimples
35
Smith Ironside
also plays Chief Walking Weasel
31
Old Seth
also plays Towering Wild Bear
24
Bronco Bill
22
Festus Rott
also plays Squatting Poodle
22
Dolly Vandergelder
covers Levi Vandergelder and also plays Leaping Leopard
19
Old Amos
18
Philius Snuffitt
18
Claude the Barber
combine with Clifford, Clint & Clyde into 1 part
16
Bonnievcombine with Casey, Dixie, Ellie & Frankie into 1 part
15
Miss Bracegirdle
also plays Jumping Jaguar
13
Rooster
12
Buzz
covers Bret's lines
12
Buck
covers Brad's lines
11
Butchvcovers Bud's lines
10
Sonny Ironsidevcovers Chad Checker's lines
7
Verity Vandergelder
covers Virginia Vandergelder's lines
6
Non-speaking Roles: Lightnin' Horse (2 actors, who also play additional townsfolk in Scene 1).
No additional chorus: Cast sit near stage and sing chorus parts when not on stage.
Note: With this cast reduction there will be occasions when a line or two may need to be reallocated, amended or deleted to compensate for the removal of characters such as Levi Vandergelder, Chad Checker, Virginia Vandergelder, the saloon ladies, outlaws and barbers.

Ye-Ha!
"

Ye-Ha! is the most fantastic and energetic play in the whole of the wild, wild west! It is an action-packed musical with astonishing jokes and catchy songs. Full of witty one-liners to make the parents snigger, interesting characters and a thrilling story-line, this amazing play is great to do as an end of Y6 production because everyone can take part: there is a range of speaking parts from 3-100 lines as well as characters with no speaking at all for the more reserved students. Scenery and props were easy to make and the staff only had to change the background twice. The costumes, which are easy to source, really help to liven up the performance. We would recommend purchasing the downloads of the songs because our CD kept skipping on the final song! "If you're good, if you're bad, if you're ugly or mad, be our guest," and buy this play for your school!

"
Class 6BH, Whipton Barton Junior School, Exeter

Ye-Ha!
"

Me and my year group have just started rehearsing for the play. Everyone loves their parts now. I got Verity Vandergelder and she's my favourite character now. This excellent play will fit any school. It's dramatic, humorous and a lovely tale from the wild west. we've written in some extra parts like Violet Vandergelder and Saloon girl Georgie. ''Ye-ha'' is the best play i've ever been in.

"
Isobel, Year 6, Bishop wood, Tring, Hertfordshire

Ye-Ha!
"

Our school has only just started practising ye-ha and already we all love it !!!!!!!!!!!! I am very exited about performing it and my favourite song is the Stetson Stomp . I recommend that other schools/clubs should do it to . Me and my classmates have even come up with handshakes for it. I can easily say it's my favourite production yet!

"
Caitlin, Stivichall primary, Coventry

Ye-Ha!
"

One of the best Year 6 plays i've been involved with, the children loved the songs and the dances and the parents loved the jokes and storyline. Would definitely recommend it

"
The Study School, New Malden

Ye-Ha!
"

Our Yr 5s and 6s have just performed Ye-Ha! as their end of year show. I have been teaching for over 20 years, and this certainly ranks as one of the most successful and enjoyable performances I've been involved in. The songs are catchy and easy to learn and the script full of one liners which amused children and adults alike. There are plenty of parts to involve reluctant boys - the McNut gang with their undies were very sought after parts.

"
Helen Hitchins, Redgate Junior, Hunstanton

Ye-Ha!
"

Ye-Ha is one of the best productions I have ever done. I have to say, that Ma Hubbard is definitely the best character.

"
Sandra, Cast member, Splodge City

Ye-Ha!
"

Such a good play and we enjoyed ourselves so much

"
Michael, Stagecoach , Chester

Ye-Ha!
"

Me and my clas did Ye-Ha, and it was probably one of the BEST experinces of my life, thank you.

"
Nicole, St Bridgets School, West Kirby

Ye-Ha!
"

Best year 6 performance i have ever seen.

"
Anon, Lincoln Birchwood Junior School

Ye-Ha!
"

Me and my classmates haven't performed the final play yet, but we are rehearsing and it's getting so close to showtime. Brilliant scenes, fun to rehearse, great catchy songs, fun costumes, side-slitting script- why, this play has it all! I really recommend this play because it is enjoyable for children, the audience, and also the teachers that help us to make the play happen!

"
Lilah, aged 10, Saltdean Primary School, Brighton

Ye-Ha!
"

We did Ye-Ha! in 2009 and it was FANTASTIC. This year's cast is SO excited to do it again!! GREAT PLAY!!

"
Sandy Stone, California

Ye-Ha!
"

I love ye ha it is very very good

"
Anon

Ye-Ha!
"

Ye-ha is a fantastic show!!!!!!!!!!! I played Ellie and it was so much fun. It's a great show to do, I could do it every day!!!!!!!!!!! GREAT FUN!!!!!!!!!!!!!!!!!!! ********** for YE-HA!!!!!!!!!!!!!!!!!!!!!!!!!!!!!!!!!!!!!!!!!!!!!!!!!!!!!!!!!!!!!!

"
Ellen, Good Shepherd Primary

Ye-Ha!
"

Ye-Ha was such a hoot.... we had a blast with cream pies and silly string. The set designers had so much fun with the fordoor salon and Slodge city... The cast (3-10 years) loved the music and The Stepson Stomp is now our official song and dance of the Drama School. We have a whole new generation of Country and Western fans. We even had to have a Hoe-down for them to get into character... The Kids loved it!

"
Anon, Rising Starz Performing Arts Trust, Whangarei, Northland

Ye-Ha!
"

Great and funny script leading to a very enjoyable production. There are lots of diferent parts to play from saloon girls, cowboys, indians to villagers. I must say with hand on heart it was the best thing we have ever done in our school and it was enjoyed by all, parents and children. I thoughly recommend this show to any school!

"
Anon, Stagecoach, Highgate

Ye-Ha!
"

One of the best shows we have ever done. The show really captured the Wild West and was enjoyed by boys and girls alike. The parents roared with laughter. Inspired writing from Craig - thank you.

"
Corrine Wellby, Upper Beeding Primary School, West Sussex

Ye-Ha!
"

Year 5 and 6 performed Ye-ha at the end of this academic year and it was brilliant. The script is witty and intelligent, appealing to the adults and children alike. The music is toe-tappingly good and very easily learnt - producing some of the best singing the year groups have ever achieved. All in all a hugely positive experience for all of us.

"
Jenny Carlyle, Pulham Primary School

Ye-Ha!
"

KS2 performed this for their end of year show and it went down a storm. We had great fun in learning to line dance for the finale, and the puns and one liners were appreciated by the audience. Our more reluctant children were keen to join in.

"
Anon, Bishop Rawle Primary, Cheadle

Ye-Ha!
"

Great play it has been better then all the other ones PS The Outlaws rock!!!! PSS I'm an outlaw!

"
Marcel, Student, BPPS

Ye-Ha!
"

Our production of Ye-Ha! was great. The costumes were easy to provide and the script and songs were excellent. We love Craig's jokes.

"
Hill Top Primary School, Leeds

Ye-Ha!
"

As director of the JUNIOR PRODUCTION OF 'YE-HA' I could see that my class really enjoyed acting this play. Brilliant!

"
Class Teacher, St. Andrews School

Ye-Ha!
"

"Ye Ha" is a great play to do in Year 5. We have been practising and we are getting very good at the songs because they are easy to learn. We are going to start the drama soon. It is going to be the best school production I've ever been in.

"
Sage, Cast Member, Fynamore Primary School, Calne

Ye-Ha!
"

"Ye-ha" is the best play that I have ever done with my school. All of my class are enjoying it so much. We have only been practising for a short while but are really getting the hang of it! It's really good how mostly every part has something to say. "Yeha" is great fun. I think it is helping some people getting rid of stage fright because all your friends are there with you!!!!!!!!!!

"
Liv, Cast member
Song Samples
FREE "Sing it!" songs!
Get over 20 x FULL "Sing it!" songs for FREE at https://SingIt.app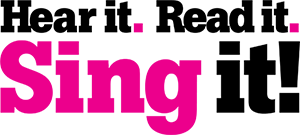 go to SingIt.app
Full songs also available on...