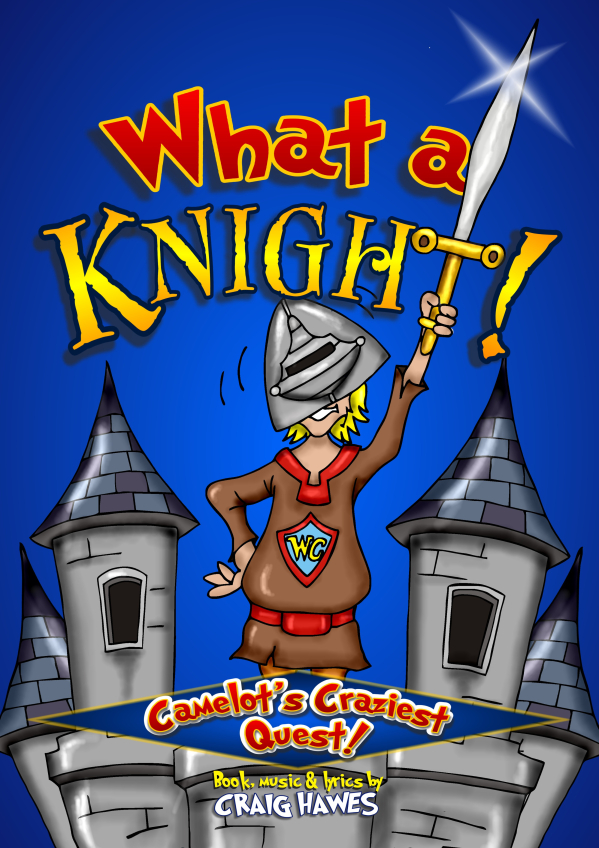 Why choose this Musical?
44 speaking roles
Easily reduced to 28 speaking roles. See "Casting" tab below.
Unlimited chorus parts
Easy to stage
Simple scenery that's easily adaptable.
NEW

Sing It! Mk. 4 version, now with...
"Volume Control" feature
"Minimise Window" feature
"Lyrics Off" feature
"Vocals Off" feature
"Line by Line" practising feature
"Phrase by Phrase" practising feature
A BRAND NEW product; a CD-ROM or download of all the songs called "Sing it!" is available. This CD-ROM or download can teach the songs to the children without any teacher input. Children can use it at school or at home - think of the time it will save you! Most schools use it in class on an interactive white board or in the school hall on the overhead projector to allow full cast practice. Children LOVE learning this way and the product is foolproof.
Read the "Sing it!" reviews 'The "Sing it!" products were fantastic.' The Downs School, Bristol. 'Absolutely amazing material.' Mary O'Neill-Delano, Canada. ' "Sing it!" is fantastic for us less musically inclined teachers.' The Coppice Primary, Worcestershire. 'I really appreciate the "Sing it!" component as we often use this in rehearsals.' Newborough East Primary, Victoria, Australia. 'Can I also say that your "Sing it!" CD was brilliant.' Key Stage 2 teacher, Singapore.
Dance it! Available
Another BRAND NEW product is the "Dance it!" Choreography DVD. Watch each song performed by a group of age-appropriate children in two different versions - a full speed 'Performance' version and a slowed down 'Step By Step' version with helpful narration to guide you through the dance. Introduced by Craig Hawes, the DVD is also packed with lots of handy hints for teaching dances. Absolutely no previous experience or expertise is needed.
Read the latest "Dance it!" reviews
'The "Dance it!" DVD was great.' St Hugh's Catholic Primary, Lincolnshire.
'For the first time we used the "Dance it!" DVD and found it wonderful.' Rising Starz Performing Arts, New Zealand.
'"Dance it!" videos were very useful.' Sacred Heart Catholic Primary, Hertfordshire.
'Loved having the Choreography (Dance it!) video this year. That really helped our choreographer get the kids started and when she was sick, we could still rehearse their dance moves.' The American School, Marrakesh.
'Loved the "Dance it!" that came with "Porridge" and would love similar for other productions. Makes my life so much easier.' Aria School, New Zealand.

CD of Backing Tracks & CD of Vocal Tracks available
Both these CDs include Overture, ALL Songs, Special Effects, Play Ons and Play Offs in the order you need them enabling production and direction to take place without specialist musical expertise.
Full Performance Piano/Vocal Score available (Grade 5 / 6 Standard)
Encompasses Overture, ALL Play Ons and Play Offs, Songs, Link Music, Cues and Chord Symbols. Click "Performance Score" in the "Script & Songs" tab below.
Easy Play Rehearsal Piano/Vocal Score available (Grade 4 Standard)
Click "Easy Play Score" in the "Script & Songs" tab below.
VERY Simple Easy Play Rehearsal Piano/Vocal Score available (Grade 1 Standard)
Check it out on the "Script and Songs" heading.
Easily constructed and manageable props
Camelot's Craziest Quest! Medieval Mayhem!!
Age range - Key Stage 2 Production. (7-11 years)
NEW! Instant Scenery with our digital backdrops
A different backdrop for EVERY scene change
Supplied in both a PowerPoint presentation and as individual JPG files.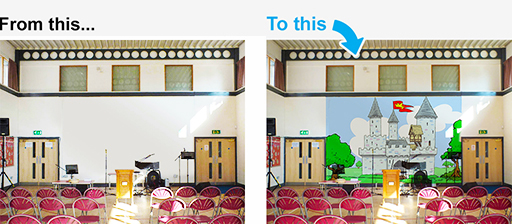 No more Scenery Painting!
A hilarious musical adventure!
A castle full of colourful characters join in the fun, including precocious princesses, a talking dragon - and not forgetting Merlin and his magic mirror! When young squire Watt Cobblers is expelled from Knight School, he reluctantly becomes Merlin's new apprentice. But trouble is never far away, and soon Camelot Castle collapses into chaos. Merlin has lost Excalibur, King Arthur's daughters have been kidnapped and his brave knights have turned into chickens. Watt and his new found friends Dusty Dragon and wayward Princess Alice set off on the biggest quest of their lives. But can our unlikely heroes rescue the princesses, save Excalibur and defeat the evil Black Knight? The answers are found in this magical production, where everyone is guaranteed to sing a lot, dance a lot and laugh a lot... at Camelot!
"What A Knight!" brings together a thrilling story, side-splitting script and a score full of contagiously catchy songs to give you a spectacular show that will be a sure hit with both cast and audience. With parts for between 26 and 60 children, plus unlimited chorus parts, this show will suit any size cast.
A CD featuring sparkling, fully orchestrated backing tracks is available.
A CD of vocal tracks is also available which can be used for rehearsals and performances.
'What A Knight' is packed full of witty one liners; even the names of the characters will get you chuckling. Lester Lugabout enters and sets the scene, followed by the ensemble singing 'The Castle Of Camelot'. Moving swiftly into action, the royal family and courtiers prepare for the kings birthday celebrations; this scene allows the characters to introduce themselves... 'King Arthur Ain't 'Arf A Bad King!' follows. The audience are then transported to Kitty's Kitchen where the two guards are sent to taste the food in preparation for the banquet. Jake the Jolly Jester and Watt Cobbler make an appearance and the audience sympathise with Kitty Cobblers son as he describes his failed attempts at becoming a knight (this is shown in a flashback scene.) Following this is a comical scene between Kitty and her son as Watt fails miserably at helping his mother to cook the all-important scones.
Merlin the Magic Magician enters, trying desperately to find something which leaves the audience bemused and inquisitive; Watt reappears and Kitty presents her son with a book for his birthday present 'How to be a Hero' (unsurprisingly Watt cannot hide his disappointment!) On the other side of the stage, Princess Alice, who is also failing at becoming a princess is presented with a book and as they sing a duet either side of the stage, 'How To Be Me' the audience predict a friendship emerging!
We then move to another castle, eerie and dingy, in which the Black Knight and his Army discuss a plan to kidnap the princesses to hold them ransom in return for Excalibur-the sword that will pronounce the Black Knight king. The audience are transported back to Camelot castle (a friendlier environment!) and Watt begins as an apprentice for Merlin the Magician in which the audience witness a comical interaction between the two. His first job involves labeling bottles of potions and the audience have a funny feeling he is going to get it wrong... Watt encounters Princess Alice and her pet, Dusty the Dragon and Merlin reveals his worries with the three of them; he has shrunk Excalibur in order to hide it from the Black Knight but has lost it! 'One Of A Kind' follows.
A flirtatious scene between the princesses and knights follow and soon after, the princesses are captured. (The knights jump at the chance to save them!) This puts Merlin under even more pressure to find Excalibur; 'We're On A Quest' follows and provides a contrast to the Black Knights castle in which the Black Knight uses Marvin the Mirror to reveal King Arthur's strategy to rescue his daughters.
In the following scene, Watt discovers that instead of taking the strength potion, the knights who have gone to save the princesses took the animal potion. A Reprise of 'We're On A Quest' follows. At the Black Knights castle, the knights drink the potion which leaves Alice, Watt and Dusty the Dragon to successfully defeat the Black Knights army and set the prisoners free. However, in a sudden twist of plot, the Black Knight returns to Camelot but is defeated by Alice and Watt in a surprising manner! All ends happily as Excalibur is found (in an unexpected place...) and Watt finds that his book really did come in useful... 'What A Knight' ends the show.
Suggested Cast List For 64 Actors
N.B. In the following list, the number shows how many spoken lines each role has. An asterisk (*) before the character's name indicates that this character ALSO has solo or featured sung lines.
| Character Name | Number of Lines |
| --- | --- |
| * Watt Cobblers | 92 |
| Merlin The Magician | 73 |
| The Black Knight | 69 |
| Kitty Cobblers | 64 |
| Bernie Blackhead | 49 |
| Ernie Blackhead | 49 |
| * Princess Alice | 48 |
| King Arthur | 42 |
| Lester Lugabout | 40 |
| * Dusty Dragon | 34 |
| Queen Guinevere | 24 |
| Marvin The Magic Mirror | 21 |
| Earl Axminster | 20 |
| Maid Molly | 20 |
| Jolly Jake The Jester | 17 |
| Princess Alberta | 14 |
| Scratch The Guard | 14 |
| Sniff The Guard | 13 |
| Colin Calvin | 12 |
| Keith Klein | 12 |
| Lord Dorking | 12 |
| Princess Alfreda | 12 |
| Sir Roundsound | 12 |
| Lord Dudley | 11 |
| Princess Almira | 11 |
| Lord Dent | 10 |
| Squire Salvador | 8 |
| Squire Samuel | 8 |
| Squire Sylvester | 8 |
| Sir Cumference | 7 |
| Sir Render | 7 |
| Squire Sebastian | 7 |
| Sir Loinsteak | 6 |
| Sir Curity | 5 |
| Sir Veillance | 5 |
| Squire Scott | 5 |
| Squire Stan | 5 |
| Squire Steve | 5 |
| Squire Syd | 5 |
| Bad Ben | 2 |
| Bad Bert | 2 |
| Bad Bill | 2 |
| Bad Bob | 2 |
| Bad Brian | 2 |
Chorus of 20 sitting offstage.
Suggested Cast List For 28 Actors
N.B. In the following list, the number shows how many spoken lines each role has. An asterisk (*) before the character's name indicates that this character ALSO has solo or featured sung lines.
Character Name
Number of Lines
* Watt Cobblers
92
Merlin The Magician
73
The Black Knight
69
Kitty Cobblers
64
* Dusty Dragon
also plays Marvin the Magic Mirror
55
Bernie Blackhead
49
Ernie Blackhead
49
* Princess Alice
48
King Arthur
42
Lester Lugabout
40
Lord Dudley
Combine with Lords Dorking and Dent into 1 part
33
Squire Sylvester
covers Squires Samuel, Scott and Steve & also plays Bill, who also covers Bob and Brian
32
Squire Salvador
covers Squires Sebastian, Stan and Syd & also plays Ben, who also covers Bert
29
Queen Guinevere
24
Earl Axminster
20
Maid Molly
20
Princess Alberta
covers 1/2 of Princess Almira's lines
circa 20
Princess Alfreda
covers 1/2 of Princess Almira's lines
circa 17
Jolly Jake The Jester
17
Scratch The Guard
14
Sniff The Guard
13
Colin Calvin
12
Keith Klein
12
Sir Roundsound
12
Sir Curity
covers Sir Veillance's lines
10
Sir Cumference
7
Sir Render
7
Sir Loinsteak
6
No additional chorus: Cast sit near stage and sing chorus parts when not on stage
Note: With this cast reduction there will be occasions when a line or two may need to be reallocated, amended or deleted to compensate for the removal of characters such as Princess Almira, Lords Dent and Dorking, and the Squires.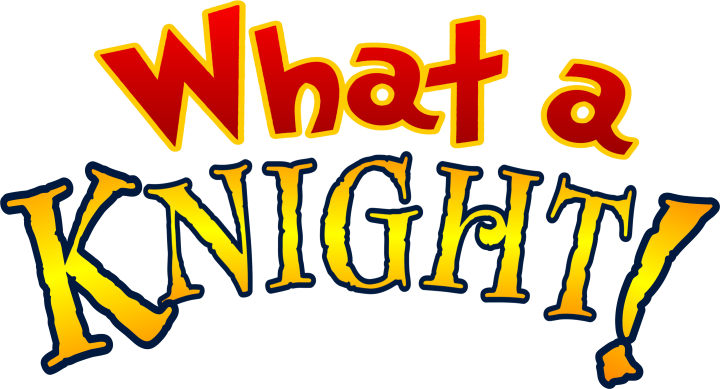 Title Artwork
Great for creating your own customised artwork for your show!
Download .png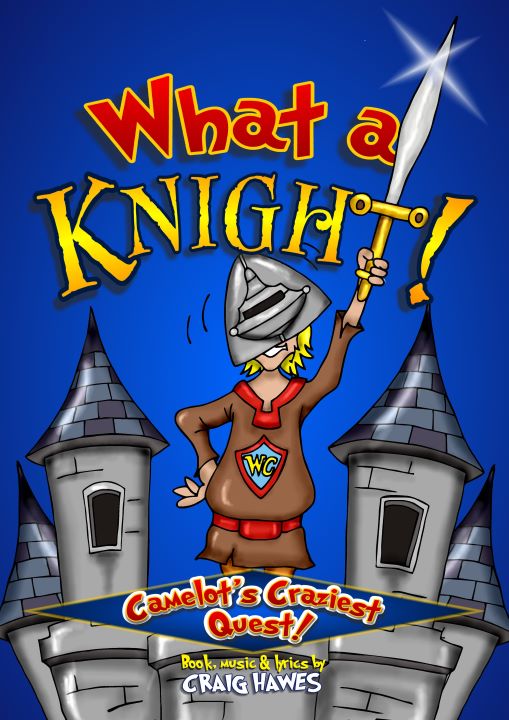 Cover Artwork
Printable book cover artwork. Great for posters and programmes!
Download .jpg

What A Knight!
"

We will be doing this for our Year 6 Graduation Assembly and I already feel like this is the best assembly in the whole wide world! Loving it and will never forget this play!

"
Michelle Wilding, Mutiara International Grammar School, Kuala Lumpur

What A Knight!
"

We've just put on our Year 7 musical theatre production of the fantastic 'What a Knight!' and the kids had such a great experience. The songs stay in your head for weeks which is a sure sign of great writing. The staging can be simple but effective and the fully rounded characters are ideal for this age group. The bond that was formed between the class was visible to see. We're looking at what to for next year now!

"
Jason Hudson, nexus International School, Putrajaya

What A Knight!
"

This electrifying story of good versus bad is great for all ages! We have just performed it for our year 6 leavers' production. All our audience, from toddlers to grandparents, found something to laugh at. All of the songs were easy to learn and very catchy - especially 'What a Knight' which we added some funky actions to! It was really great to have such a range of parts available so we could all get involved whether we had 2 lines or 93! Some of our favourite characters were Ernie and Bernie Blackhead, for their brilliant banter as well as Watt, Kitty and Merlin - the scene between Watt and Kitty making scones had our audience in hysterics; 'Season the mixture... Sneeze on the mixture!?' Overall we had loads of fun and, as a school, we thoroughly recommend this play.

"
Class 6S, Whipton Barton Junior School, Exeter

What A Knight!
"

Great play. I enjoyed acting, practicing and auditioning using some of Watt and Kittys lines! The black knight really is a chess nut!

"
Holly, The Black Knight , Student Y6, England

What A Knight!
"

I am really extied to do our last three performances because it is amazing to work with all my friends and I play Kitty Cobblers its amazing! I really like the character Jolly Jake!

"
Sophie Chapman , Long Furlong Primary School, Abingdon

What A Knight!
"

This is the best show iv'e ever done. I played Jolly Jake in What a Knight. Everyone was joking around me because I got a funny line. (Example: blurting out one of my lines: It's all so depressing!) It was good fun.

"
Elisa Druett, Long Furlong Primary School, Abingdon

What A Knight!
"

I played Kitty Cobblers in What a Knight and it was an experience I will never forget! It was such a joy to rehearse and my mates would agree.

"
Arnika Baldwin-Shore, Templeton Primary School, Melbourne

What A Knight!
"

This is a great play and the kids have loved doing it. We love all the jokes and all the kids find them hilarious. Would definitely recommend as a great end of year 6 production (which is what we did!!!!!)

"
No, No, No

What A Knight!
"

Amazing characters, amazing plot, amazing dialogues and amazing play! Year 5 did this January 2015 and it was amazing! What a play, What A Knight is!

"
Laurence Ingham, Dubai English Speaking School, Dubai

What A Knight!
"

We did this for our year 5 production and I loved it to pieces. I would recommend this to anyone who would like to put on a simple but amazing production. I wish I could do it all over again!!!!!!!

"
Princess Alice/Lucia, St. Anthony's RC school , London

What A Knight!
"

Fun producing it, being 11 years old and a pupil acting King Arthur, everyone enjoyed it. The audience loved it too. A great production.

"
Jacob Leman, Butlers Court School, Beaconsfield

What A Knight!
"

A really great show which transports children and parents back in to the dark ages with consummate ease! The songs are catchy, but not too ambitious for a week's holiday workshop, but children learned the lines quickly and relished producing a fabulous performance with our team of directors. At Stagecoach Galway, we love working with Musicline because they keep delivering measurable results and What a Knight! will not let you down. A big hit and highly recommended.

"
John Lucey, Stagecoach, Galway

What A Knight!
"

I was Watt Cobblers and it was my Yr 6 leavers production. It was the best one i ever did!!!!!!! Loads of laughs!!!! OHHHH WHAT A KNIGHT!

"
Lewis Pickles, Fryern Junior School, Chandlers Ford

What A Knight!
"

All my class have really emjoyed performing this show and getting into crazy costumes. We have got into playing the roles and pretend to be our characters when we eat lunch! The show is going to be amazing on the night of the performance and I don't think ANYONE can wait! We have a great Watt and Kitty (the banter between those two is great) and a amazing Alice, Merlin and Dusty! Everyone suits their characters and can perform their parts well. I suggest to anyone wanting to perform this play to do so, you will be laughing from start to finish and singing ALL the catchy songs on the way home.

"
Charlotte, St.Catherines School, Horwich

What A Knight!
"

I think the play is really good and funny I am rehearsing right now and I am the bad knight. It Iis really funny and I can't wait to perform!

"
Ben, Sefton Park, Bristol

What A Knight!
"

We are doing this play at my school. I am Dusty the dragon. It is a hilarious play. LOVE IT!!

"
Dusty Dragon, Temple Normanton Primary

What A Knight!
"

I'm doing this production for my Yr6 leaving performace. Iv'e only learned one and a half songs, but even now I'm on the edge of my seet to hear more!!!!

"
Emily, Stanbrige Primary School, Bristol

What A Knight!
"

The children and the staff have thoroughly enjoyed performing this play. The script is exceptionally funny. I can thoroughly recommend it.

"
Mrs Hood, Blakeley Heath

What A Knight!
"

I cant wait! im singing on my own! this prouduction is going to be the best! thankyou craig haws!!!

"
Princess Alice, OLC School Solihull

What A Knight!
"

We did this for our end of year play and we had so much fun. The songs are really good and we were able to add some witty moves to go with the words. We had the audience in fits and I LOVED How To Be Me - best song! Even if it is because it was my solo but everyone said that was their favourite so I was like yay!

"
Princess Alice

What A Knight!
"

This Prouduction was way better than last year,i was the main character and last year we did Yee Ha another on by hawes in year 5 this rocked and was way better i loved it and my best freind was Lord Dudley so he was a courtier i hope next year its even better

"
Hisham Merlin, Sherborne School, Qatar

What A Knight!
"

I LUV WHAT A KNIGHT!!!!!!!!!!!!!!!!!!!!!!!!!!!!!!!!!!!!!!!!!!!!!!!!!!!!!!!!!!!!!!!!!!!!!!! ITS SOOOOOOOOOOOOOOOOOOOOOOOOOOOOOOOOOOOO COOL ITS GOING 2 BE THE BEST LEAVERS PLAY EVER

"
Sheena, Gentleshaw Primary School

What A Knight!
"

it is so great - we love it!

"
Longton Primary School

What A Knight!
"

The audience were falling out of their seats its that funny great witty one liners and loads of plays-on-words best play ever great way to leave p7every show was sold out I'm really happy about the play it's over now and sad about that but had great time amazing crack even in rehearsals. BUY THIS YOU'LL HAVE QUITE A KNIGHT(s)

"
Rose Carrot, Beetroot Primary School, Flippers Town

What A Knight!
"

What a play love it love the sword fight

"
Ernie Blackhead, St Marys Primary School

What A Knight!
"

Really enjoying practices. I play The Black Knight. I can't wait for the perform it. Feb 21st 2011

"
Niall, The Black Knight

What A Knight!
"

I loved all of the play and it was so fun to do my Teacher loves knights and this play was a great play and we had great fun learning the play if we could do it again I would love to do it

"
Jack (Earl Axminster) Cardinal Newman

What A Knight!
"

i think that it will be a knight to remember because of all the great people in it which means natalie , megan , alex , emily and georgia

"
Charlotte - Princess Alice

What A Knight!
"

Great show were going to be busy at our school were working overtime

"
Ernie Blackhead -the mean evil guy with his brother Bernie Blackhead

What A Knight!
"

I saw this last night and it was fabulous - some fantastic jokes and puns and with some brilliant songs everyone is involved in the show - great script, great characters, the school did this proud with limited rehearsal time, credit to the writer and the performers Steve (proud dad of Squire Syd) !

"
Parent, Kingston Primary, Thundersley

What A Knight!
"

wow i cant wait to do the play at the end of the year it is going to be so cool

"
Britney- Princess Alfreda

What A Knight!
"

Brilliant to perform and watch. it has an easy, precise and funny script which was a fabulous entertainment for all

"
Mrs Ridler and Mr Slater, Kingsclere Primary School

What A Knight!
"

A very funny and amusing show which had the audience in stitches.

"
Katherine Teece, St. John's School, Stafford

What A Knight!
"

Our Year 6 children have had us in hysterics today performing this to the rest of the school. Other teachers said it was the best play they've seen performed at the school for a long while. What can I say? Excellent script and music makes it really easy to stage and the kids just love performing it. Thanks to the composer!

"
Melanie Oakley, Sybourn Primary School, London

What A Knight!
"

This is the second summer we have used a Hawes script for our two-week musical theater camp. Last summer we did Ye Ha! What is really great about these scripts is that each role has lines and a defined character. It allows us the opportunity to work with every child on character development. While Ye Ha allowed us to use our American accents (we even have the cowboy part down really well out here), we used What a Knight to also provide the students some accent work. The scripts easily accommodate the 40 or so students we have in our camp each year and the entire artistic and production team has a great time working on the show. The music is fun and simple enough to learn quickly, the length of the show perfect and the jokes are very funny as well. With all those elements we were able to pull off great productions in just 7 days of rehearsal at the camp. We can't wait to find another Hawes script for our 2011 summer camp.

"
Mrs. Reeves, DFT Gecko Teatro Youth Theater, Cave Creek - Arizona - USA

What A Knight!
"

Im Kandy Calvin in the play and its just sooo funny and I love all the funny bits! I can't wait for the night!

"
Olivia

What A Knight!
"

Amazing I got the part of Lester Lugabout in our play

"
William Owen, Eagley Junior School, Bolton

What A Knight!
"

ALL OF US FROM UR SCHOOL LOVED THE IT SO WE HOPE YOU DO TO

"
Lois and Ruby, Sandgate

What A Knight!
"

it is an excellent funny production with great characters.

"
Truli aged 9, Sandgate Primary School, Folkestone

What A Knight!
"

An outstanding script. So funny and wonderful to watch. Everyone enjoyed rehearsing and acting out the play. Highly recommended.

"
Parent, Woodlesford Primary School, Leeds

What A Knight!
"

'What a Knight' was the best key stage two play at Shawfield ever! All the year 5 and 6 got a part and it was great to see their contribution.

"
Lucy Dixon, Shawfield Primary School

What A Knight!
"

i think the play is a good fun joyful and funny play with a bit of everything like songs dances acting and jokes so i love it all round.

"
Dancer from the play

What A Knight!
"

this play is soo good i was one of the main characters and the jokes are soo funny and it is the best play ever!!!!!!!! it is a great yr 5,6 play we really enjoyed it at hamble primary school :)

"
Lester Lugabout!!! - one of the main characters

What A Knight!
"

We have performed this as our End of Year Key Stage 2 production. The Year 6 absolutely loved the script from the moment they first read through it and were very excited! The choir also enjoyed singing the songs. Last night was our first performance and the parents thought it was great and laughed at the jokes! A great script and catchy songs makes this a fantastic choice for a Year 6 cast. Thank you!

"
Happy Year 6 Teacher

What A Knight!
"

My daughter appeared in What a Knight in her Year 6 play this week and it was fantastic. Great story, great jokes and even better catchy songs. So catchy in fact, we can't stop singing them.

"
Clare

What A Knight!
"

I'm doing it at the end of the year and every time we rehearse everyone can't stop laughing! It's extremely entertaining to watch and take part in.

"
A.T - Cast Member

What A Knight!
"

At St. Michael's C of E Primary in Kingsteignton we are doing the play ' What A Knight ' and we have just learnt the first song which is terrific.

"
Hannah

What A Knight!
"

At Treloweth CP School - Cornwall we're doing "What a Knight" and it is fantastic.

"
Jess

What A Knight!
"

My class is doing this play for our end of year 6 play and everyone is really excited about it. We all think it's incredibly funny. The songs are really easy to learn and all in all it's so cool!

"
Prinsesss Alfreda

What A Knight!
"

Such a joy to watch and a very clear and precise script. Very entertaining, on the whole - WONDERFUL!

"
Mary Rose, KS2 Teacher