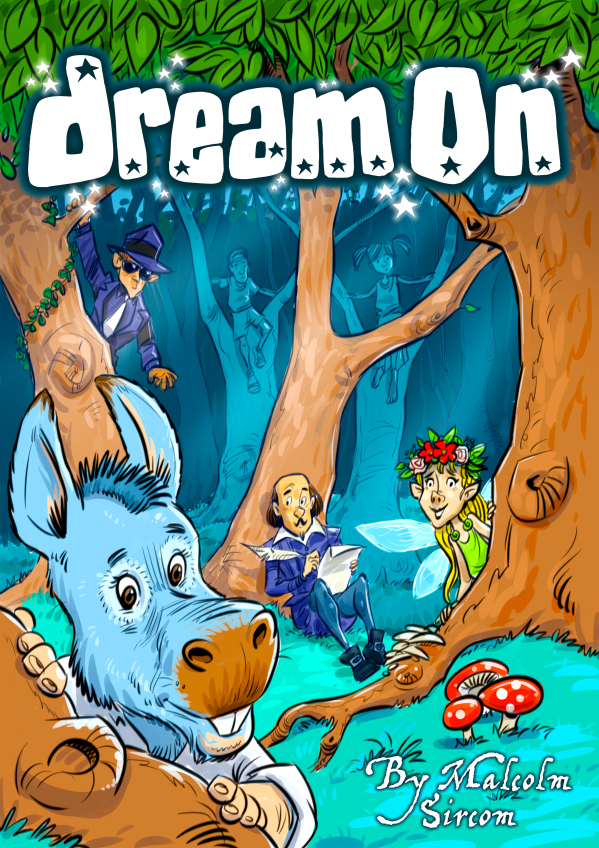 Click HERE to read the Script, look at the Score and listen to the Songs
Dream On
by
Malcolm Sircom
Pricing & Order Info.
Celebrate over 400 years of Shakespeare's creative legacy with our superb adaptation of "A Midsummer Night's Dream"
Takes the fear out of Shakespeare
Flexible Cast size to suit YOUR group numbers, from 26 actors upwards. See "Casting" tab below.
Unlimited chorus parts.
Easy to stage with simple scenery - adaptable.
CD of Backing Tracks.
CD of Vocal Tracks.

However - for those of you who prefer a live pianoforte accompaniment, we now have available a superb BRAND NEW Performance Piano/Vocal Score which encompasses Overture, Songs, Cues and Chord Symbols. (Grade 8 standard).

Easily constructed and manageable props.
Age range: Key Stage 2 Production (7-11 years)
Especially engaging for your Upper Juniors (9-11 years) - a Perfect Year 6 leavers' play.
Duration: One hour 15 minutes.
NEW! Instant Scenery with our digital backdrops
A different backdrop for EVERY scene change
Supplied in both a PowerPoint presentation and as individual JPG files.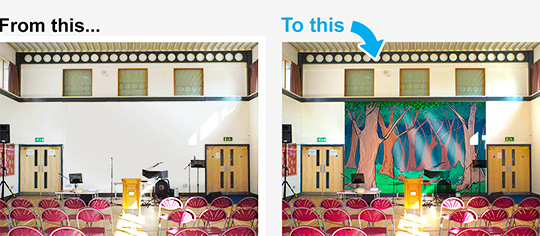 No more Scenery Painting!
Download FREE Backdrops
This world-wide smash hit musical has now been adapted for Junior Schools.
With the same dynamic impact and magical quality as the Senior version of "A Midsummer Night's Dream", it has been carefully reworked, simplified and shortened so that Junior actors will not in the least be overstretched, but will enjoy the experience as much as feedback tells us that Middle & Senior schools and their audiences do.
Just as in the Senior show, the fear is taken out of Shakespeare. All his characters come vividly to life, comedy abounds and the musical score is outstanding.
In this Junior version you have the choice of either playing it as One Act (One hour 15 minutes) or In Two Acts with an interval (One hour 30 minutes).
Act One: Scene One
The Chorus sing the song 'The Olympic Games' then it's over to the Court of Theseus, Duke of Athens who is preparing for his wedding to Hippolyta, a Venezuelan firebrand, whom he beat in the bidding for the Olympic games. They recall how they fell in love, singing the Venezuelan Tango, before two Greek Athletes, Lysander and Demetrius enter, followed by old man Egeus and his daughter Hermia. It soon becomes clear that although Egeus has betrothed Hermia to Demetrius, who is rich, that she is in fact in love with Lysander, a peasant. Theseus advises Hermia to reflect on the situation, as her refusal to marry Demetrius would result in her being sent away to a convent. She is told to make her decision on the Duke's wedding day. Meanwhile, we discover that Demetrius chatted up Helena, who is now besotted with him. All leave except Lysander and Hermia who plot to elope. After they sing the duet 'Dream On', Helena appears and learns of the lovers' plans to meet that night at the haunted Palace Wood and make their escape. As the lovers exit, Helena vows to use the information for her own ends.
Scene Two
Enter 'The Rude Mechanicals', 6 workers who have been constructing the Olympic stadium. The sextet perform the comical number 'Rude Mechanicals'. They are amateur actors who have been asked to perform at the Duke's wedding. Bottom is the worker with the biggest ego and Peter (Or Peta if female) Quince is the director who hands out the parts to study.
Scene Three
In Palace Wood, gangsters Robin Goodfella and the Corleone brothers enter and rap the 'Goodfella Rap' before Robin orders the brothers away while he hides and awaits Oberon who has called for him. Enter the girl fairies of Titania and boy fairies of Oberon singing their song 'Pretty Little Fairies' before the entrance of Titania and Oberon who were once lovers. It becomes clear that Oberon not only wants Titania's accountant as his has been fiddling the books, but he also has hopes of the pair rekindling their relationship. Titania has no intention of helping Oberon and, as we learn during 'You Fancy Me', of ever resuming their love affair. As Titania and the remaining fairies exit, Robin emerges and Oberon asks him to change his name to Puck (as a more fairy-friendly name) and to find a special herb that has the power to make a person fall in love with the next living thing they see. He intends to use the herb to make Titania fall for something vile before applying an antidote. Puck leaves to find the herb and Oberon who is invisible to mortals, eavesdrops on a conversation between Demetrius and Helena. 'The Roundabout of Love' crushes Helena's dreams of Demetrius feeling the same towards her as she does him. Oberon takes pity on Helena and orders Puck to sprinkle some herb into Demetrius' eyes, telling him he will easily recognise him by his athlete's attire.
Scene Four
Titania and her fairies enter and as Titania is so tired, the others sing her to sleep before leaving her alone. Oberon enters and sprinkles the herb in the sleeping Queen's eyes then swiftly exits. Lysander and Hermia wearily enter and settle down to sleep. Puck spots Lysander dressed as an athlete and, assuming he is Demetrius, sprinkles the herb over his eyes. Demetrius and Helena enter but Demetrius runs off. Helena sees Lysander on the ground and thinks he is hurt so wakes him. Under the spell of the herb, Lysander falls in love with a very baffled Helena who takes offence at his advances and leaves, followed by a smitten Lysander. Hermia awakes after dreaming that Lysander has fallen out of love with her and, after finding him gone, she leaves.
Scene Five
The Rude Mechanicals enter to rehearse their play. They imagine all the benefits it might bring them as they sing ' Fame and Fortune'. Puck enters and decides to cause some mischief. As Bottom exits as part of the rehearsal, he follows him and puts an ass's head on him. When Bottom returns, the others run off scared. Titania wakes, sees Bottom and, thanks to the power of the herb, falls instantly in love with him. She summons her fairies and tells them to supply anything Bottom wants. The scene and Act One ends with the song 'Rock Bottom'.
Act Two (optional): Scene One
Act Two opens with the song 'Hero or Villain'. Oberon and Puck enter and Puck tells of Titania's love for an ass. Hermia and Demetrius enter and it's clear that Demetrius is besotted. Oberon realises that Puck has bewitched the wrong athlete! Hermia exits and Demetrius settles down to sleep before Oberon sprinkles the herb over his eyelids, telling him that Helena will be the object of his desires when he awakes. As Oberon and Puck exit, Helena and a besotted Lysander enter. Demetrius awakes, succumbs to the herb and also falls in love with Helena. The entrance of Hermia creates more chaos and the four quarrel, making it clear that they are now 'Deadly Enemies'. Oberon is determined to undo all the mischief, so he casts a fog over the woods and exits. The four lovers, unable to see each other through the dense fog, wearily lay down to sleep as Puck sprinkles the troublesome herb over Lysander and orders him to love Hermia.
Scene Two
Bottom is so tired, he falls asleep in the arms of Titania while the fairies sing 'Blues on a foggy night' to him. The fairies depart and Titania is soon also asleep. Oberon and Puck enter, Oberon lifts the fog and sprinkles the remedy over Titania, then wakes her. She is horrified at the sight of Bottom and agrees to a proposal of marriage from Oberon. Puck removes the ass's head from Bottom before Titania, Oberon and Puck exit. Enter Theseus, Hippolyta and Egeus who see the four lovers and Bottom asleep. As the lovers awake, it becomes clear that happiness has been restored and they are all finally in love with the correct partners. Realising the true love the couples have, Theseus arranges for them to marry at his own wedding to Hippolyta before they all joyfully dance back to the Court of Theseus during the song 'Conga Everywhere'. Bottom stirs from his slumber assuming he has dreamt the previous strange events. The Rude Mechanicals enter depressed about doing the play without Bottom but their sadness is short lived when they bump into the man himself and they set off for a final rehearsal.
Scene Three
Back in Athens, the three couples, plus Titania and Oberon enter to the 'Wedding March'. The Mechanicals present their execrable - and ludicrously funny! - play, and the show finishes with Finale: 'Dream On', followed by a post-curtain 'Fame & Fortune'.
Suggested Cast List For 50 Actors
N.B. In the following list, the number shows how many spoken lines each role has. An asterisk (*) before the character's name indicates that this character ALSO has solo or featured sung lines.
| Character Name | Number of Lines |
| --- | --- |
| * Oberon | 89 |
| * Bottom/Pyramus | 85 |
| * Robin/Puck | 63 |
| Quince | 60 |
| * Theseus | 53 |
| * Titania | 48 |
| * Lysander | 45 |
| * Helena | 42 |
| * Hermia | 42 |
| * Demetrius | 40 |
| Flute/Thisbe | 27 |
| * Hippolyta | 26 |
| * Egeus | 19 |
| * Luigi | 19 |
| Philostrate | 17 |
| * Gino | 16 |
| Snug/Lion | 14 |
| Snout/Wall | 10 |
| * Peaseblossom | 8 |
| Starveling/Moonshine | 7 |
| Cobweb | 6 |
| Moth | 5 |
| Mustardseed | 5 |
Non-speaking roles: Chorus of 6 Boy Fairies (Oberon's) and 6 Girl Fairies (Titania's) in scene 3.
Additional Chorus - 15 sitting offstage throughout.
Suggested Cast List For 26 Actors
N.B. In the following list, the number shows how many spoken lines each role has. An asterisk (*) before the character's name indicates that this character ALSO has solo or featured sung lines.
Character Name
Number of Lines
* Oberon
89
* Bottom/Pyramus
85
* Robin/Puck
63
Quince
60
* Theseus
53
* Titania
48
* Lysander
45
* Helena
42
* Hermia
42
* Demetrius
40
Flute/Thisbe
27
* Hippolyta
26
* Egeus
also plays one of the Chorus fairies in Scene 3
19
* Luigi
19
Philostrate
also plays one of the Chorus fairies in Scene 3
17
* Gino
16
Snug/Lion
14
Cobweb
combine with Mustardseed into 1 part
11
Snout/Wall
10
* Peaseblossom
8
Starveling/Moonshine
7
Moth
5
Non-speaking roles: Chorus of 3 Boy Fairies (Oberon's) and 3 Girl Fairies (Titania's) in scene 3. (This includes the 2 actors also playing Egeus and Philostrate.)
No additional chorus - cast sit near stage and sing chorus parts when not on stage.

Dream On
"

This is the BEST play ever! I really really really really recommend this play for any type of school! I really enjoy learning it and it is hilarious ( but a bit mushy!) So you have to do this play its funny, and fun to learn and act!

"
Rosemary Greenwood, Malvern Parish C.E Primary school, Malvern

Dream On
"

outstanding I loved the production I wanted to be Helena but I got the part of Pease-blossom but still it was the best production I ever did

"
Misbah, ash hill primary school, united kingdom

Dream On
"

Dream on is a amazing production , all the parents were howling with laughter! I played the part of Titania it was so much fun and very hard at the same time. The script was so good and the songs were fantastic.

"
Amelia

Dream On
"

We really enjoyed performing "Dream On" last term. The show has a great script and memorable music and our audiences love it.

"
St Georges School, Switzerland

Dream On
"

At the end of term at Ladysmith Middle School we did a leaving play called "Dream On." I played the part of Hermia - it was cool but hard to do. It was the most eventful part of the year. I would love to do it again.

"
Sophie Letten (Cast Member)

Dream On
"

Shakespeare made easy! Simply scintillating and so simple to stage! Our cast loved it! As did our audiences.

"
Biggar Junior Theatre Workshop, Scotland

Dream On
"

At Rawdon St. Peter's School the year 6s do a leavers' play when they leave; "Dream On" was ours. It was a great play to do. I love Hippolyta's part in it. Unfortunately, I played "Mustard Seed" the fairy. Overall it was the best production I ever did.

"
Katie Jowett (Cast Member)

Dream On
"

I loved doing Dream On. It is my final year at Primary School and it was so cool!

"
Gemma (Cast Member)

Dream On
"

We used this production with a Year 7 group, and really enjoyed the whole thing. The script is amusing, with enough entertainment value to appeal to parents, and yet easily accessible for our students, and the score is excellent! I enjoyed it so much, I'm repeating the show in my new school!

"
Michael Tidd, Thomas A Becket Middle School

Dream On
"

I am in a theatre group and I played the part of "Helena". It was hard work learning all the lines but it was a lot of fun. I would happily do it again!

"
Maisie Cook, Cwmbran