Alice The Musical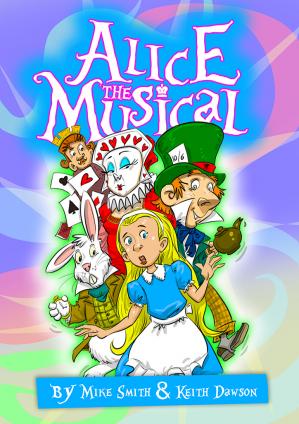 Why choose this Musical?
20 Speaking Roles
Separate CDs of Backing and Vocal Tracks available
Rehearsal Scores available
Grade 5/6 standard and Grade 2/3 standard, see "Script & Songs" below.
NEW for 2019

Sing It! Mk. 4 version, now with...
"Volume Control" feature
"Minimise Window" feature
"Lyrics Off" feature
"Vocals Off" feature
"Line by Line" practising feature
"Phrase by Phrase" practising feature
A BRAND NEW product; a CD-ROM or download of all the songs called "Sing it!" is available. This CD-ROM or download can teach the songs to the children without any teacher input. Children can use it at school or at home - think of the time it will save you! Most schools use it in class on an interactive white board or in the school hall on the overhead projector to allow full cast practice. Children LOVE learning this way and the product is foolproof.
Read the "Sing it!" reviews 'The "Sing it!" products were fantastic.' The Downs School, Bristol. 'Absolutely amazing material.' Mary O'Neill-Delano, Canada. ' "Sing it!" is fantastic for us less musically inclined teachers.' The Coppice Primary, Worcestershire. 'I really appreciate the "Sing it!" component as we often use this in rehearsals.' Newborough East Primary, Victoria, Australia. 'Can I also say that your "Sing it!" CD was brilliant.' Key Stage 2 teacher, Singapore.
Editable Word Doc Script available
Age range: Upper Key Stage 2 Production (9-11 years)
Duration: 55 to 65 minutes
NEW! Instant Scenery with our digital backdrops
A different backdrop for EVERY scene change
Supplied in both a PowerPoint presentation and as individual JPG files.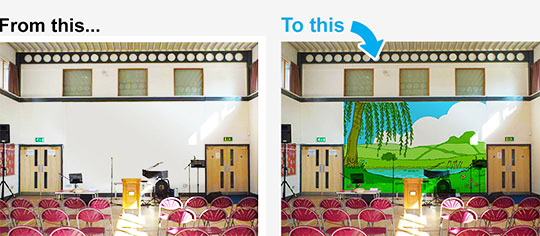 No more Scenery Painting!

Alice The Musical
"

Yesterday we bought this production and we must admit it's awesome. We are spellbound. The quality of the audios is great. The Sing it! software - well, we love it!!! Congratulations on your work. It's a pity we were not told about you years before.

"
Ivan Montani & Gabriela Pastor, FreeWay School of English, Argentina
---

Alice The Musical
"

I'd just like to say "Well Done" for this superb musical.

"
Key Stage 2 Music Co-ordinator, Lincolnshire
---