Pirates Of The Curry Bean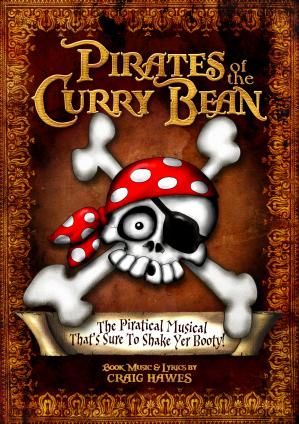 Why choose this Musical?
38 Speaking Roles
Can be reduced to 24 speaking roles, see "Casting" tab below for full instructions.
Unlimited chorus parts
Easy to stage and costume
NEW for 2019

Sing It! Mk. 4 version, now with...
"Volume Control" feature
"Minimise Window" feature
"Lyrics Off" feature
"Vocals Off" feature
"Line by Line" practising feature
"Phrase by Phrase" practising feature
A BRAND NEW product; a CD-ROM or download of all the songs called "Sing it!" is available. This CD-ROM or download can teach the songs to the children without any teacher input. Children can use it at school or at home - think of the time it will save you! Most schools use it in class on an interactive white board or in the school hall on the overhead projector to allow full cast practice. Children LOVE learning this way and the product is foolproof.
Read the "Sing it!" reviews 'The "Sing it!" products were fantastic.' The Downs School, Bristol. 'Absolutely amazing material.' Mary O'Neill-Delano, Canada. ' "Sing it!" is fantastic for us less musically inclined teachers.' The Coppice Primary, Worcestershire. 'I really appreciate the "Sing it!" component as we often use this in rehearsals.' Newborough East Primary, Victoria, Australia. 'Can I also say that your "Sing it!" CD was brilliant.' Key Stage 2 teacher, Singapore.
CD of Backing Tracks & CD of Vocal Tracks available
No pianist required! Both these CDs include Overture, ALL Songs, Special Effects, Play Ons and Play Offs in the order you need them enabling production and direction to take place without specialist musical expertise.
Dance it! Available
Another BRAND NEW product is the "Dance it!" Choreography DVD. Watch each song performed by a group of age-appropriate children in two different versions - a full speed 'Performance' version and a slowed down 'Step By Step' version with helpful narration to guide you through the dance. Introduced by Craig Hawes, the DVD is also packed with lots of handy hints for teaching dances. Absolutely no previous experience or expertise is needed.
Read the latest "Dance it!" reviews
'The "Dance it!" DVD was great.' St Hugh's Catholic Primary, Lincolnshire.
'For the first time we used the "Dance it!" DVD and found it wonderful.' Rising Starz Performing Arts, New Zealand.
'"Dance it!" videos were very useful.' Sacred Heart Catholic Primary, Hertfordshire.
'Loved having the Choreography (Dance it!) video this year. That really helped our choreographer get the kids started and when she was sick, we could still rehearse their dance moves.' The American School, Marrakesh.
'Loved the "Dance it!" that came with "Porridge" and would love similar for other productions. Makes my life so much easier.' Aria School, New Zealand.

Full Performance Score available
Encompasses Overture, ALL Play Ons and Play Offs, Songs, Link Music, Cues and Chord Symbols. (Grade 5 / 6 standard). Click "Performance Score" in the "Script & Songs" tab below.
Easy Play Rehearsal Score available
Grade 2 / 3 Standard, click "Easy Play Score" in the "Script & Songs" tab below.
Easily manageable props
Age range: Key Stage 2 Production (9-11 years)
NEW! Instant Scenery with our digital backdrops
A different backdrop for EVERY scene change
Supplied in both a PowerPoint presentation and as individual JPG files.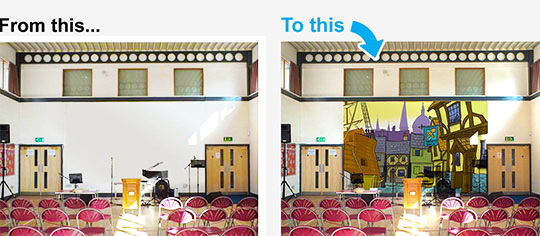 No more Scenery Painting!
Prefer "Live" music? "Band Parts" Now Available
Why not let your children play along with the pianist or backing tracks.
They could even play along for some or all of the rehearsals/performances.
If your children have instrumental lessons, this is a wonderful opportunity for them to play in front of a live audience.
What an incentive to practise!
All the individual parts work well with piano, keyboard or backing tracks.
All tried - All tested - Everything Works!
This show is sold with the following parts:
Full Conductor's Score (All parts written at Concert Pitch)
C + 8ve Lead (Flute)
C Lead (Violin)
Bb Lead (Clarinet - Trumpet etc.)
Eb Lead ( Alto Saxophone)
Keyboard 1
Keyboard 2
Electric Guitar
Bass Guitar
Drum Set
To view, click "HERE" or click "Band Parts" in the "Scripts & Songs" tab below.

Pirates Of The Curry Bean
"

This was a joy to perform. The songs are fun and catchy, and the dance routine videos were such a helpful thing to have. The children loved it and the parents were talking about how good it was for days. It's quite long. We had an interval after Scene 4 which worked well and ensured the children had enough energy to carry it right through to the end. I would highly recommend this.

"
Helen Rogers, St Giles CE Primary School, Matlock, Matlock
---

Pirates Of The Curry Bean
"

Fantastic. We adapted it for 90 Year 2s to perform and it was a huge success.

"
Briar Hill, Leamington, bH, wareick
---

Pirates Of The Curry Bean
"

Great lots of fun exciting parts and a great adventure story

"
Sophie, Widnes
---

Pirates Of The Curry Bean
"

Our children loved this show from the first day they saw it to the final performance. They practised in their break times without being asked! It was a fabulous way to end the school year. The songs were brilliant and the characters were very funny. Amazing! Thank you!

"
Sharon Osborne, Ysgol Bro Dewi, St Davids
---

Pirates Of The Curry Bean
"

We just finished our summer workshop with "Pirates of the Curry Bean". Every kid had a ball and just loved doing the show! The audience had as much fun as the kids and couldn't stop laughing. Everyone loved the music and dances...just a superlative show in every way with a great story line too!

"
Charlotte, Players Kids OnStage
---

Pirates Of The Curry Bean
"

A perfect end to the primary phase ! My Year 6 class, colleagues, whole school and parents loved the whole hilarious show. I doubt I will ever be able to top this performance. Thank You!

"
Mary Edwards, St Philip's CE Primary School, Litherland
---

Pirates Of The Curry Bean
"

This show was perfectly pitched for upper junior children, with enough cameo roles for a large Year 6 cohort all to have their 5 minutes of fame. The script was hilarious and gave the children real confidence that what they were performing was truly entertaining. We will definitely be purchasing more Craig Hawes productions; they're worth their weight in gold! The songs were written in children's voice ranges and were easy to learn, making the production far less arduous and far more enjoyable than it usually is! We have had nothing but praise from audience members. A fantastic play; I thoroughly recommend it.

"
Wooden Hill Primary School
---

Pirates Of The Curry Bean
"

Our daughter played Redbeard last night in her school's Year 6 leavers performance and the show was fantastic ! Laughs aplenty from start to finish and abundent scope for hilarious casting - we particularly liked the wimpy, posh Admiral and of course Redbeard ! A fabulous show enjoyed by both the cast and parents !

"
Mrs Evans, Fulfen Primary, Burntwood Staffs
---

Pirates Of The Curry Bean
"

A great show enjoyed by all of the Year 3 and 4 performers as well as staff and parents. The Children will remember this play for a long time. The sound effects were great and added to the humour of the play. We saw a different side to our children. We have a few budding actors! Thank you!

"
St Thomas More Redditch
---

Pirates Of The Curry Bean
"

We loved doing 'Pirates'! We had a cast of 84, 3 to 11 year olds fully involved and most of them were girls, as our little boys are only in Kindergarten at the moment. The jokes were great and the soundtrack made the whole performance professional yet straightforward to do. A fabulous romp, greatly enjoyed by us all. Thank you!

"
Ann Johnson, Roch House Prep School, Abbots Bromley, Staffs
---

Pirates Of The Curry Bean
"

A great show full of fun and appalling puns! Lots of opportunities for visual humour and some really catchy music. I was anxious that the Nigerian audience wouldn't get the jokes, but I needn't have worried - they loved it!

"
Tim Gardner, Lagos Prep School, Nigeria
---

Pirates Of The Curry Bean
"

On this production you work your very own socks off but have a great day rehersing and making the props! This takes you from London to Lumbago (in the sea of Sciatica). In this play i played the pirate 'Broadside' and i really enjoyed it, and i hope i get to do this again! Hope you like it.

"
Alice, St Mary's Langho RC Primary School, Blackburn
---

Pirates Of The Curry Bean
"

I love this play especially that I will be doing it. Our rehearsals have been great. This is the best play ever performed by KS2.

"
Aaron, Fredercick Bird Primary School, Coventry
---

Pirates Of The Curry Bean
"

The children could not stop laughing throughout the rehearsals. It is a perfect choice for older key stage 2 children. We managed to perform it with only 22 cast members as it was easily adapted. The songs are fun and easy to learn. It is very well written with excellent stage directions and ideas for props. Overall a huge success and the parents seemed to love it - "Best one in years!" I would definitely reccomend this to all Primary (and younger Secondary) Schools.

"
Jo Impey, Itchingfield Primary School, Horsham
---

Pirates Of The Curry Bean
"

I think it is the funniest thing in the galaxy. I love it!

"
Matilda Harris, St Peter's Methodist Primary School, Canterbury
---

Pirates Of The Curry Bean
"

Fantastically funny show that all our pupils & parents simply adored!

"
Claire Mackinder, Ranby C of E Primary, Nottingham
---