Zoom!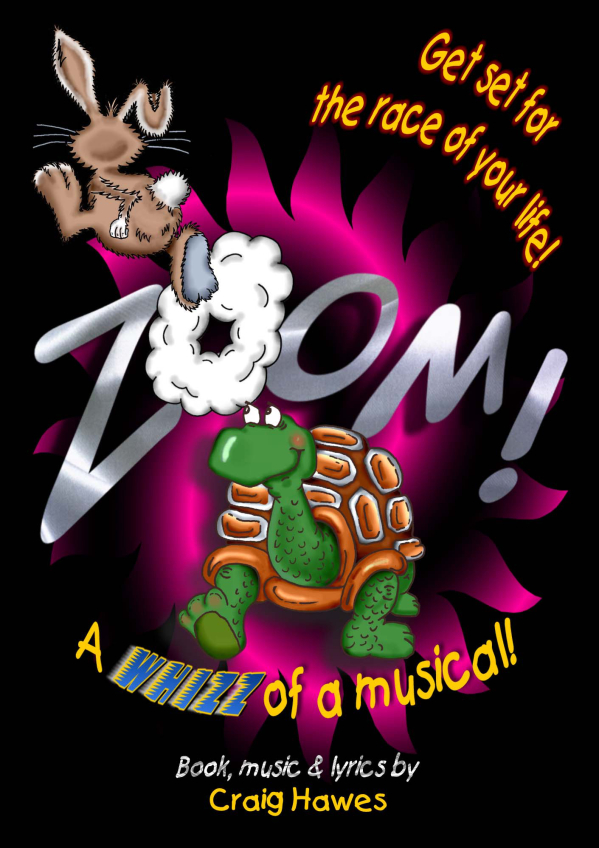 Why choose this Musical?
NATIONAL CURRICUULM - LITERACY / FABLES
Flexibility
Flexible Cast size to suit YOUR group numbers, from 27 actors upwards. See "Casting" tab below.
Unlimited chorus parts - as many as you like!
Easy to stage and costume
CDs of Backing and Vocal Tracks available
Both these CDs include Overture, ALL Songs, Special Effects, Play Ons and Play Offs in the order you need them enabling production and direction to take place without specialist musical expertise.
BRAND NEW Scores available
Grade 5/6 standard Performance Score (encompasses Overture, ALL Play Ons and Play Offs, Songs, Link Music, Cues and Chord Symbols) and Grade 2/3 standard Rehearsal Score. Check them out on the "Script & Songs" tab below.
Manageable props
Age range: Key Stage 2 Production (7-11 years)
Duration: 60-70 minutes
Based upon The Tortoise and the Hare, Zoom is a sparkling musical comedy which retells the famous fable in an unusual way.
Harvey Hare, wealthy business tycoon, is running for Mayor of Evergreen Valley, but his methods are rather underhand. When his small, shell-shuffling employee Toby Tortoise discovers the truth, he challenges Harvey and the stage is set for the race of all time.
It's a race between fast and slow, big and small, right and wrong... but who will win in the end?
With nine outstanding songs ranging from beautiful ballads to show-stopping chorus numbers, the score is guaranteed to be a hit with everyone.
The witty, humorous script mixes comedy and pathos and is brought to life by a cast of colourful characters. With speaking parts for between 27 and 44 youngsters aged 7 to 11, plus unlimited chorus parts, this is an ideal production for schools of all sizes.