The Rocky Monster Show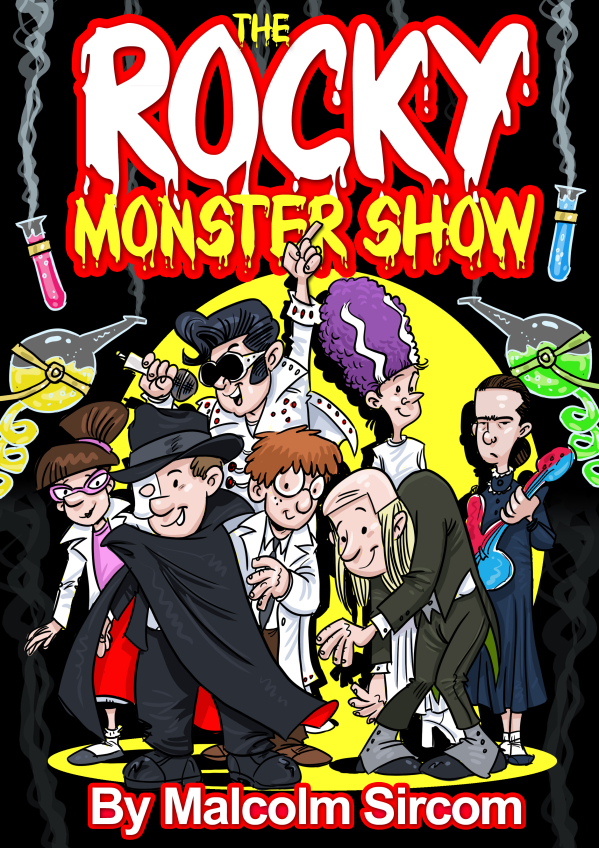 Why choose this Musical?
23 speaking roles plus YOUR choice of extras
Can be reduced to 19 speaking roles (see "Casting" tab).
Unlimited chorus parts
Easy to stage & Easy to costume
CD of Backing Tracks available
CD of Vocal Tracks available
No pianist required! However - for those of you who prefer a live pianoforte accompaniment, we now have available a superb BRAND NEW Performance Score which encompasses Overture, ALL Songs, Link Music, Cues and Chord Symbols. (Grade 6/7 standard). We also have available a BRAND NEW Rehearsal Score (Grade 3 / 4 standard).
Sing It! Mk. 3 version, now with NEW...
"Lyrics Off" feature
"Vocals Off" feature
"Line by Line" practising feature
A BRAND NEW product; a CD-ROM or download of all the songs called "Sing it!" is available. This CD-ROM or download can teach the songs to the children without any teacher input. Children can use it at school or at home - think of the time it will save you! Most schools use it in class on an interactive white board or in the school hall on the overhead projector to allow full cast practice. Children LOVE learning this way and the product is foolproof.
Read the "Sing it!" reviews 'The "Sing it!" products were fantastic.' The Downs School, Bristol. 'Absolutely amazing material.' Mary O'Neill-Delano, Canada. ' "Sing it!" is fantastic for us less musically inclined teachers.' The Coppice Primary, Worcestershire. 'I really appreciate the "Sing it!" component as we often use this in rehearsals.' Newborough East Primary, Victoria, Australia. 'Can I also say that your "Sing it!" CD was brilliant.' Key Stage 2 teacher, Singapore.
Easily manageable props
Age range: Key Stage 2 Production (7-11 years)
Duration: 60 to 80 minutes
NEW! Instant Scenery with our digital backdrops
A different backdrop for EVERY scene change
Supplied in both a PowerPoint presentation and as individual JPG files.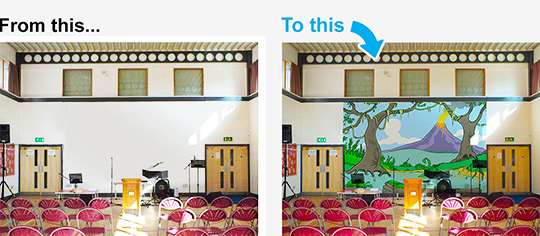 No more Scenery Painting!
"Evolution" opens this dramatic performance and the narrator follows by briefly setting the scene. Dan and Rebecca, the newly hired assistants to Professor Fenton enter and have an unusual encounter with the Stationmaster at Arkham Station who does not have pleasant things to say about Professor Fenton's castle.
We then move inside the castle where the audience is introduced to Mrs Danvers, the housekeeper, the servant Igor, and Gloria, the Professor's charming daughter. Unsurprisingly Gloria is fed up with being cooped.
Dan and Rebecca arrive and Gloria makes a beeline for Dan - (maybe she has found something to keep her entertained?) Professor Fenton enters to "Professor of Rock 'n' Roll" which even gets the narrator bopping along! A flashback follows which explains how Professor Fenton came to inherit the castle.
Scene 3 takes place in the laboratory and Fenton explains his work to his assistants. What follows is completely unexpected as a flash of lightning brings his work to life-literally! "The Flash Crash" follows.
As the narrator moves the action to Arkham Village Hall, the villagers are gathered together discussing the castle, determined to convince an Inspector that it needs to be shut down. Eventually, they succeed (albeit with not very firm evidence) and the Inspector is convinced there is a case to investigate.
As Fenton explains his plan to bring his rock group back to life, the Inspector calls (excuse the pun) and the inhabitants of the castle convince him that they are enjoying a Star Trek convention which explains the interesting state of the castle... Fenton then offers to throw a concert to socialise with the villagers and we get a taste of what's to come with "Supergroup".
The concert follows, and there is a complete change of mood as the villagers thoroughly enjoy themselves at the castle ballroom. The Superbs sing "Lady Love" which is followed by a rendition of Elvis's "Hard Act To Follow. Unfortunately, the rendition is so accurate that it raises doubts in the guests' minds and the Inspector becomes suspicious. Yet in an even more dramatic twist, Elvis and the Superbs are frozen immobile when a blast of lightning hits them and the effect of flames follows, setting the castle on fire, destroying Fenton and his monsters.
In the following scene Rebecca and Dan discover that Fenton was indeed Frankenstein (which I'm sure you will have guessed) and although Mrs Danvers survives the fire, in a terrible twist Rebecca and Dan have a last minute toothy situation to deal with...