What A Knight!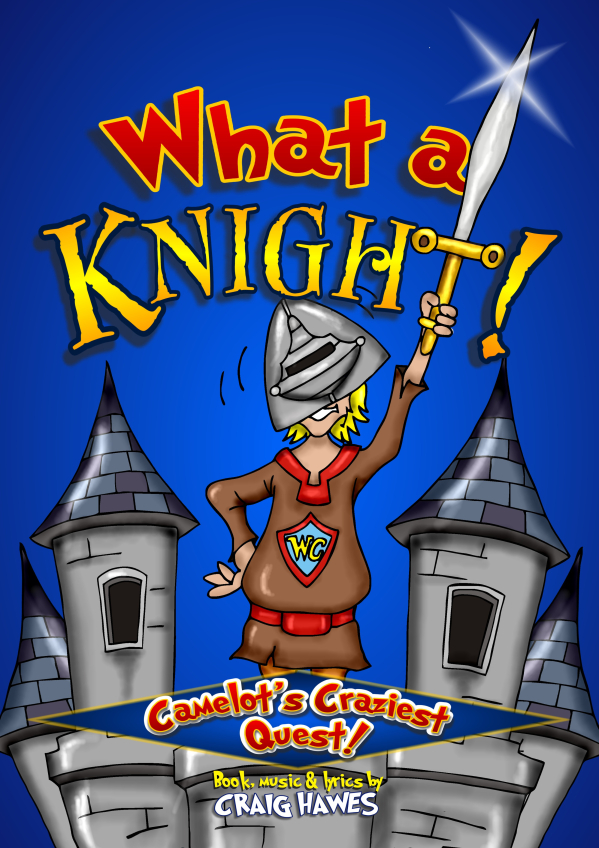 Why choose this Musical?
44 speaking roles
Easily reduced to 28 speaking roles. See "Casting" tab below.
Unlimited chorus parts
Easy to stage
Simple scenery that's easily adaptable.
Sing It! Mk. 3 version, now with NEW...
"Lyrics Off" feature
"Vocals Off" feature
"Line by Line" practising feature
A BRAND NEW product; a CD-ROM or download of all the songs called "Sing it!" is available. This CD-ROM or download can teach the songs to the children without any teacher input. Children can use it at school or at home - think of the time it will save you! Most schools use it in class on an interactive white board or in the school hall on the overhead projector to allow full cast practice. Children LOVE learning this way and the product is foolproof.
Read the "Sing it!" reviews 'The "Sing it!" products were fantastic.' The Downs School, Bristol. 'Absolutely amazing material.' Mary O'Neill-Delano, Canada. ' "Sing it!" is fantastic for us less musically inclined teachers.' The Coppice Primary, Worcestershire. 'I really appreciate the "Sing it!" component as we often use this in rehearsals.' Newborough East Primary, Victoria, Australia. 'Can I also say that your "Sing it!" CD was brilliant.' Key Stage 2 teacher, Singapore.
Dance it! Available
Another BRAND NEW product is the "Dance it!" Choreography DVD. Watch each song performed by a group of age-appropriate children in two different versions - a full speed 'Performance' version and a slowed down 'Step By Step' version with helpful narration to guide you through the dance. Introduced by Craig Hawes, the DVD is also packed with lots of handy hints for teaching dances. Absolutely no previous experience or expertise is needed.
Read the latest "Dance it!" reviews
'The "Dance it!" DVD was great.' St Hugh's Catholic Primary, Lincolnshire.
'For the first time we used the "Dance it!" DVD and found it wonderful.' Rising Starz Performing Arts, New Zealand.
'"Dance it!" videos were very useful.' Sacred Heart Catholic Primary, Hertfordshire.
'Loved having the Choreography (Dance it!) video this year. That really helped our choreographer get the kids started and when she was sick, we could still rehearse their dance moves.' The American School, Marrakesh.
'Loved the "Dance it!" that came with "Porridge" and would love similar for other productions. Makes my life so much easier.' Aria School, New Zealand.

CD of Backing Tracks & CD of Vocal Tracks available
Both these CDs include Overture, ALL Songs, Special Effects, Play Ons and Play Offs in the order you need them enabling production and direction to take place without specialist musical expertise.
Full Performance Score available
Encompasses Overture, ALL Play Ons and Play Offs, Songs, Link Music, Cues and Chord Symbols. (Grade 5 / 6 standard). Check it out on the "Script and Songs" heading.
Easy Play Rehearsal Score available
Grade 4 standard, check it out on the "Script and Songs" heading.
VERY Simple Easy Play Rehearsal Score available
Grade 1 standard, check it out on the "Script and Songs" heading.
Easily constructed and manageable props
Camelot's Craziest Quest! Medieval Mayhem!!
Age range - Key Stage 2 Production. (7-11 years)
NEW! Instant Scenery with our digital backdrops
A different backdrop for EVERY scene change
Supplied in both a PowerPoint presentation and as individual JPG files.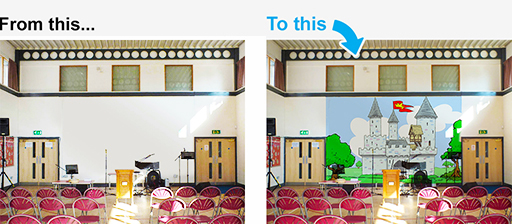 No more Scenery Painting!
'What A Knight' is packed full of witty one liners; even the names of the characters will get you chuckling. Lester Lugabout enters and sets the scene, followed by the ensemble singing 'The Castle Of Camelot'. Moving swiftly into action, the royal family and courtiers prepare for the kings birthday celebrations; this scene allows the characters to introduce themselves... 'King Arthur Ain't 'Arf A Bad King!' follows. The audience are then transported to Kitty's Kitchen where the two guards are sent to taste the food in preparation for the banquet. Jake the Jolly Jester and Watt Cobbler make an appearance and the audience sympathise with Kitty Cobblers son as he describes his failed attempts at becoming a knight (this is shown in a flashback scene.) Following this is a comical scene between Kitty and her son as Watt fails miserably at helping his mother to cook the all-important scones.
Merlin the Magic Magician enters, trying desperately to find something which leaves the audience bemused and inquisitive; Watt reappears and Kitty presents her son with a book for his birthday present 'How to be a Hero' (unsurprisingly Watt cannot hide his disappointment!) On the other side of the stage, Princess Alice, who is also failing at becoming a princess is presented with a book and as they sing a duet either side of the stage, 'How To Be Me' the audience predict a friendship emerging!
We then move to another castle, eerie and dingy, in which the Black Knight and his Army discuss a plan to kidnap the princesses to hold them ransom in return for Excalibur-the sword that will pronounce the Black Knight king. The audience are transported back to Camelot castle (a friendlier environment!) and Watt begins as an apprentice for Merlin the Magician in which the audience witness a comical interaction between the two. His first job involves labeling bottles of potions and the audience have a funny feeling he is going to get it wrong... Watt encounters Princess Alice and her pet, Dusty the Dragon and Merlin reveals his worries with the three of them; he has shrunk Excalibur in order to hide it from the Black Knight but has lost it! 'One Of A Kind' follows.
A flirtatious scene between the princesses and knights follow and soon after, the princesses are captured. (The knights jump at the chance to save them!) This puts Merlin under even more pressure to find Excalibur; 'We're On A Quest' follows and provides a contrast to the Black Knights castle in which the Black Knight uses Marvin the Mirror to reveal King Arthur's strategy to rescue his daughters.
In the following scene, Watt discovers that instead of taking the strength potion, the knights who have gone to save the princesses took the animal potion. A Reprise of 'We're On A Quest' follows. At the Black Knights castle, the knights drink the potion which leaves Alice, Watt and Dusty the Dragon to successfully defeat the Black Knights army and set the prisoners free. However, in a sudden twist of plot, the Black Knight returns to Camelot but is defeated by Alice and Watt in a surprising manner! All ends happily as Excalibur is found (in an unexpected place...) and Watt finds that his book really did come in useful... 'What A Knight' ends the show.